Platform
Managing Assets from the DIFC
The Dubai International Financial Centre (DIFC) is a gateway for capital and investment, strategically located between East and West. Filling the time-zone gap between the leading financial centres of New York and London in the West and Hong Kong and Tokyo in the East, DIFC is a platform for access regional wealth and investment opportunities and global asset management.
Alternative Investment Management Global Platform (AIMgp)
The Alternative Investment Management Global Platform (AIMgp) allows portfolio managers to take advantage of the benefits of the DIFC with an institutional operational, financial, technological, investor relations, legal and compliance infrastructure. In the post financial crisis era, investors have placed increasing weight on Operational Due Diligence, focusing more attention on activities outside of the ordinary investment functions. The purpose of the AIMgp is to attain operational excellence in managing assets, enabling Hedge Fund and Private Equity Fund portfolio managers to focus efforts and resources on alpha generation and while an experienced team provides the integrated global infrastructure needed to achieve success.
Unique Onshore, Tax Free Status
The DIFC in a unique jurisdiction for asset management activities in that it enjoys both onshore and 0% tax status.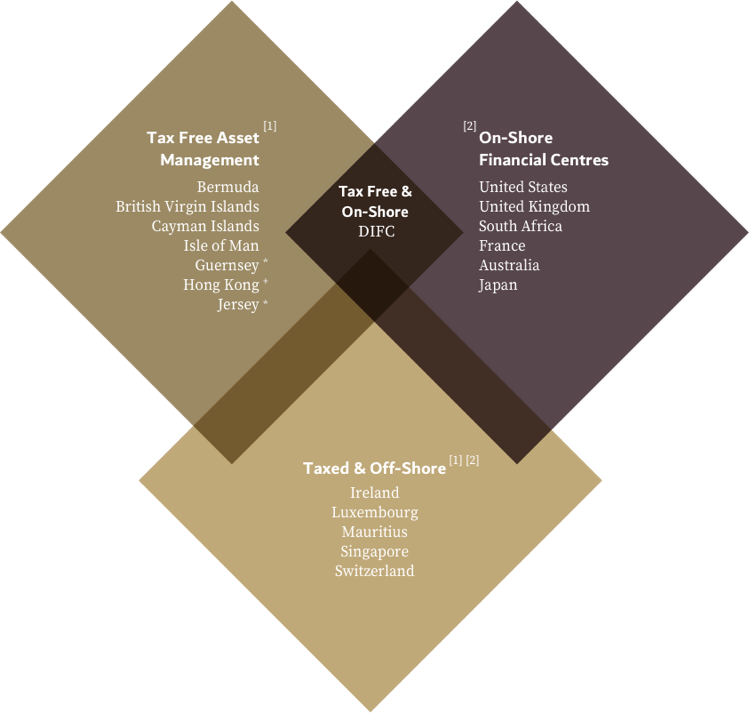 International Regulatory Recognition and Tax Treaties
At the heart of the DIFC is the Dubai Financial Services Authority (DFSA) - a world class, independent, risk-based regulator, which grants licenses and regulates the activities of all banking and financial institutions in the DIFC. It was modelled closely to legislation used in London and New York and has in place Memoranda of Understanding (MoUs) formalising co-operation between regulatory authorities globally[3], holding associate membership with the International Organisation of Securities Commissions (IOSCO)[4]. The United Arab Emirates Ministry of Finance has signed a wide network of Double Taxation Treaties and Double Taxation Avoidance Agreements (DTAAs) available to UAE incorporated entities.[5]
Common Law Legislative System
High Standards of laws, rules and regulations International Legal System based on common law of England and Wales Independent, common law judicial system with jurisdiction over civil and commercial disputes