KHK Liquid Ventures Fund
The earlier of 3 years after final close or when the fund is 100% invested (target at 2 years)
Overview
KHK Liquid Ventures I ("KLV I") is a fund established by KHK & Partners and Dalma Capital Management with the mandate to acquire shares in Growth and Late-stage VC backed companies on the secondary market at a discount.
The growing number of sizeable VC companies stay private longer with the average age of VC backed IPO ~11 years today vs. ~3 years in 2000.
The "Liquidity Gap" is creating increased opportunities for solution-providers allowing early investors and employees to obtain liquidity on the secondary market, prior to major liquidity events (IPO or sale).
Key Facts
| | |
| --- | --- |
| FUND DOMICILE | Cayman Islands |
| TYPE OF FUND | Closed-Ended |
| TARGET FUND SIZE | USD 100 Million, with hard cap at USD 200 Million |
| GP COMMITMENTE | 10% of funds raised, up to USD 10 Million |
FUND FEES
Management Fee: 2%
Carry: 20%
INITIAL CLOSING DATE
Q2 2020
INVESTMENT PERIOD
The earlier of 3 years after final close or when the fund is 100% invested
FUND TERM
7 years, with one-year extension at the option of the manager
Top-Tier Service Providers

Top-Tier Service Providers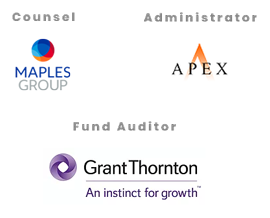 Investment Strategy
Focus on secondary VC investments at a discount between late stage and pre-IPO, leading to high potential for upside with major risks mitigated.
Focus on bridging the Liquidity Gap by providing liquidity to early investors, founders and employees in growth and late stage VC companies.
Focus on mobility, fintech, selfcare, new age media, AI, security, IoT, and enterprise software - sectors driven by solid secular trends and with tremendous value creation potential.
Target average duration of underlying investments of 2 to 3 years.
Invest small tickets in acquiring discounted shares in late stage deals sourced through trusted VC partners and founder network gaining access to company insights and performance details.
Armed with asymmetrical information and access to sellers, continue to build Fund's position by buying shares at lower valuations to the previous funding round, providing downside protection.
Value Propostion
The Market Opportunity
The growing number of sizeable VC companies staying private longer is creating a major "Liquidity Gap" in the VC space globally and the opportunity for secondary investors to emerge.
Attractive Valuation/Discount To Target
KLV I invests in companies with a likely liquidity event in two to three years (IPO or trade sale) and enters at the right time at a discount to current market value, ensuring immediate upside with downside protection.
Lower Risk Due to Late Stage Portfolio
KHK Liquid Ventures Fund primarily focuses on secondary VC investments at a very late stage and pre-IPO, combining high potential for upside with major risks mitigation.
Shorter Investment Duration
2-3 year average holding period for underlying growth VC and pre-IPO investments allows for shorter fund life. KLV I is structured as a 7-year fund, while traditional VC funds have a 10-year + duration.
The Ecosystem
KHK Liquid Ventures Fund benefits from unique track record, access and execution capabilities. Access to founders/management team and privileged information on target companies enables KLV I to build research reports on target companies.
Partnerships Across the Globe
KHK Liquid Ventures Fund has developed excellent deal sourcing relationships across all major regions: USA, Europe, China and India. It's extensive global sourcing networks have the experience and local knowledge to identify and access the best deal flow thus being able to generate more variety, quality and depth of deal flow. KLV I has partners in the major global cities where tech venture capital in concentrated.