Delta Rhino Capital
US Real Estate Opportunity Fund
Overview
The Delta Rhino Capital Fund is being established to offer opportunities to invest in institutional-quality U.S. commercial real estate assets.
The Fund targets stabilized core investment opportunities in apartment, office, retail, hotel and mixed-use properties in the secondary cities in the eight Sun Belt states, where the outsized commercial real estate investment opportunities can be found.
The fund advisors have more than 13 years of experience of structuring over $1 billion of Shariah-compliant real estate investments in the US and the Middle East.
Key Facts
| | |
| --- | --- |
| FUND DOMICILE | Malta |
| TYPE OF FUND | Closed-Ended |
| CORPORATE STRUCTURE | Sub-Fund (of existing umbrella) |
| MINIMUM INVESTMENT | USD 1.0 Million |
| TARGET FUND SIZE | USD 50.0 Million |
| MAXIMUM FUND SIZE | USD 75.0 Million |
| SPONSOR COMMITMENT | USD 2.5 Million |
HURDLE
16.0% based on IRR
FUND FEES
Management Fee – 1.75%
Performance Fee – 20.0%
Platform Fee – 0.36%*
Other Fees**
INITIAL CLOSING DATE
30 April 2020
FINAL CLOSING DATE
30 September 2020
INVESTMENT PERIOD
2 years after the Final Closing Date
FUND TERM
5 years after the Initial Closing Date, subject to extension for 2 additional one-year periods
Top-Tier Service Providers

Top-Tier Service Providers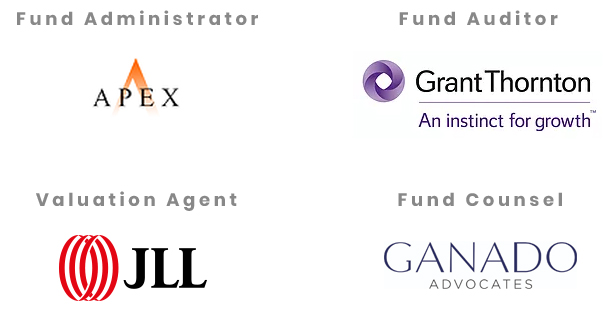 Investment Strategy
The Fund aims to deliver gross current income yields of 9.0% while balancing long-term capital appreciation to deliver minimum target gross IRRs of 16.0% and target gross equity mult iples of 2.0x.
Given the current macroeconomic environment, the Fund retains the ability to pursue a blended strategy whereby up to 30% is invested in opportunistic core assets while approximately 70% of deployable capital is invested in stabilized core assets.
If prevailing conditions dictate that the Fund pursue the aforementioned blended stabilized/opportunistic portfolio, it would reflect slightly lower target gross income yields of 8.2%, but both higher target gross IRRs of 21.3% and target gross equity multiples of 2.4x.
Value Propostion
Immediate In-Place Cash Return
The Fund follows "Income Now" approach that targets immediate and strong current cash yields paired with long-term value protection of the underlying investments.
Capital Preservation by Investing in Stabilized, Fully Leased Core Properties
The Fund targets properties with long-term leases in place to high-credit tenants and Class A buildings in highly desirable locations.
The Sun Belt's Strong Fundamentals
Second-tier cities within the Sun Belt offer investors attractive pricing and higher yields supported by sound economic fundamentals that still offer confidence and successful exit strategies.
Blended Strategy to Maximized Potential Returns
The Fund also targets core real assets with strong underlying fundamentals that present an opportunistic investment stemming from the current macroeconomic turmoil.
Broad Network – Robust Pipeline
Within each of the target markets, the Fund's investment team boasts strong networks that provide access to unique investment opportunities and off-market deal sourcing.
Deep Market Expertise
Delta Rhino Capital leverages its partners' sovereign wealth management backgrounds, extensive real estate investment experience and robust network of leading investors, developers, property owners and other real estate professionals throughout the United States and Middle East.